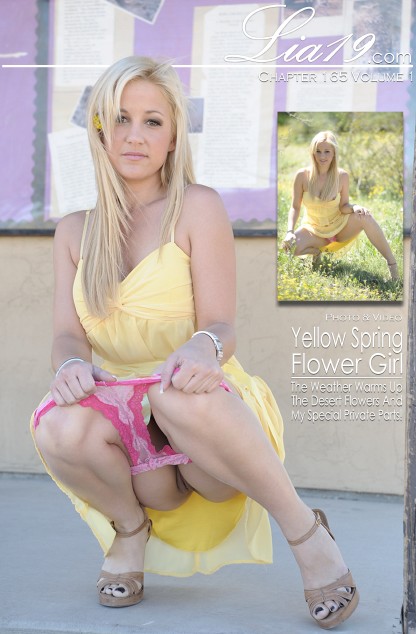 Chapter 165
Volume I
---


Ah, I'm so happy that its warm and pretty outside again! We've had a cold spell for 3 months here (I know, I'm being a wuss when our cold spell means 50 degrees!) but you know what I mean. I can't wear cute dresses and heels or run outside when its cold. So now the flowers are in bloom, and I have a cute yellow dress to match. I actually had to hike in those heels up the mountain to get the right private spot for those initial photos! Not to mention the people (mostly older women) who were doing their power walks nearby.


3000kb/sec High Definition Video
At a peaceful, quiet neighborhood, there is a nice large patch of yellow wildflowers that totally match my dress. So I squat down and pick some, all while you watch up my skirt (no panties!). I rub myself a bit on the sidewalk, avoid peoples' attention, then expose my breasts. I go to the back yard where its more private, and masturbate with my fingers, fingering hard and fast for a good one!