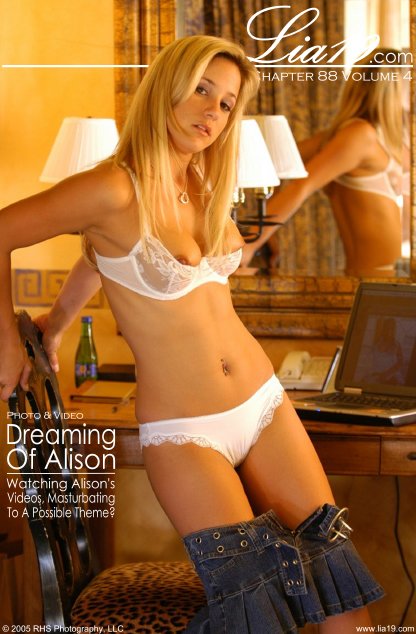 Chapter 88
Volume IV
---


One of the other sexy outfits one of my members sent me, was this combo of white bra & panties, a neat denim skirt, and white pumps. I've never worn traditional white pumps before, but to my surprise they looked pretty sexy. I thought that the 'secretary look' would be cool with this one, so we did the shoot at the office table. And wow, these pictures all turned out so hott (especially the last ones)!! I know you'll agree. #108, 122, 128, 133, 146, 157, and 160 are my picks. The butt shot ones will probably be your picks.


Working on my laptop...no actually browsing Alison's FTV pictures & video, then making it my background, I fix my hair, listen to fine music, and checking her breasts out. I'm still wearing that cute secretary style outfit I had on for my photoshoot, but I move the panties aside so I can rub myself, slowly at first to get into the mood. With Alison masturbating in the background, I start going to my breasts and tweaking my nipples, taking my panties and skirt off and really getting down to masturbating with my fingers. Trying to be a little kinky, I took my white pump off, sucked on the heel & used the heel like my finger. I don't know what got into me, but the whole mood of this place got me going after a while, and I had a very strong orgasm, which is rare for me on camera.
Videographer's Note: This masturbation video of hers was in my opinion the hottest I've seen of her to date.